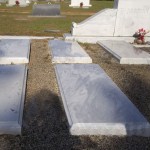 LOVED ONE | Ann Jarman Blake
DATES | October 17, 1945 – January 9, 2012
CEMETERY | Rosehill, Ashburn, GA
LOCATION IN CEMETERY |
FUNERAL HOME | Perry Funeral Chapel, PO Box 687, Ashburn, GA 31714 – t: 229 567 3366

Ann Jarman Blake, 66, of Marietta passed away on January 9, 2012. She is survived by her husband, Drew Blake; daughters, Natalie and Lauren Blake of Atlanta; sister, Judi Jarman Morgan of Sandy Springs, and many devoted nieces, nephews, and cousins. Ann was preceded in death by her parents, William Corbin Jarman, Jr. and Jane Pitts Jarman of Ashburn, GA; and brother, William Corbin Jarman, III of Marietta.
A memorial mass will be held at Transfiguration Catholic Church in Marietta on Wednesday at 11:00 AM, and her burial will take place in Ashburn, GA, on Thursday.
In lieu of flowers, donations in memory of Ann may be made to either Angels Among Us Pet Rescue or the National Brain Tumor Society.
Arrangements under the direction of H.M. Patterson & Son-Canton Hill Chapel, Marietta, GA.

The James Company, Inc. d/b/a Bailey Monument & Vault Company does not provide any content pertaining to individuals on this website. All such content is provided by customers, and The James Company, Inc. d/b/a Bailey Monument and Vault Company and its representatives are not responsible for the same.